My Mother (Victoria Harrington) painstakingly transcribed Stid's letters and postcards and I designed this website to share his beautiful words. Having read through Stid's writing I feel I have an understanding of him as a person and what a shame it was we didn't get to meet him  

I'm sure you will find that not only was he an incredible individual but also a brilliant writer.
The first weekend I worked on this site was like reading a book you couldn't put down. Basically created the site in one weekend. Most of the letters have held up well but some, like this one from Get Arthur on the job  were falling apart and very hard to read. Having them on this site means that the words will remain even if the paper disintegrates further.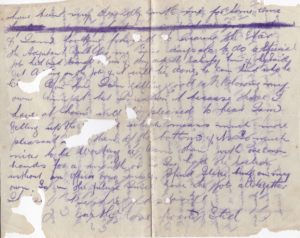 We have added periods and paragraph breaks to make it a bit easier to read. Left some misspellings and fixed others. We took our best guess at the words, when we weren't sure, we italicized our guess. Send us a note on the contact form if you have another interpretation.
The photos and memories that we have included are those that we had and are not intended to be exclusive. Please send through your own words and pictures. I am happy to add them. If you don't have my details, use the contact form to reach me.
Just a note about the dates on this website. Posts need a date so I used the dates the postcards were written. When dates were missing, I used January 1 and the year it most likely was. If there were enough clues to narrow it down, I took a stab at it and labelled it with "date estimated". Would have rather left them blank but I can't.
Also, because everything is 100 years old, I assume there are no copyrights retained. If you are aware of anything that has a copyright, please advise me and I will remove the item and request permission.
– Melinda Harrington